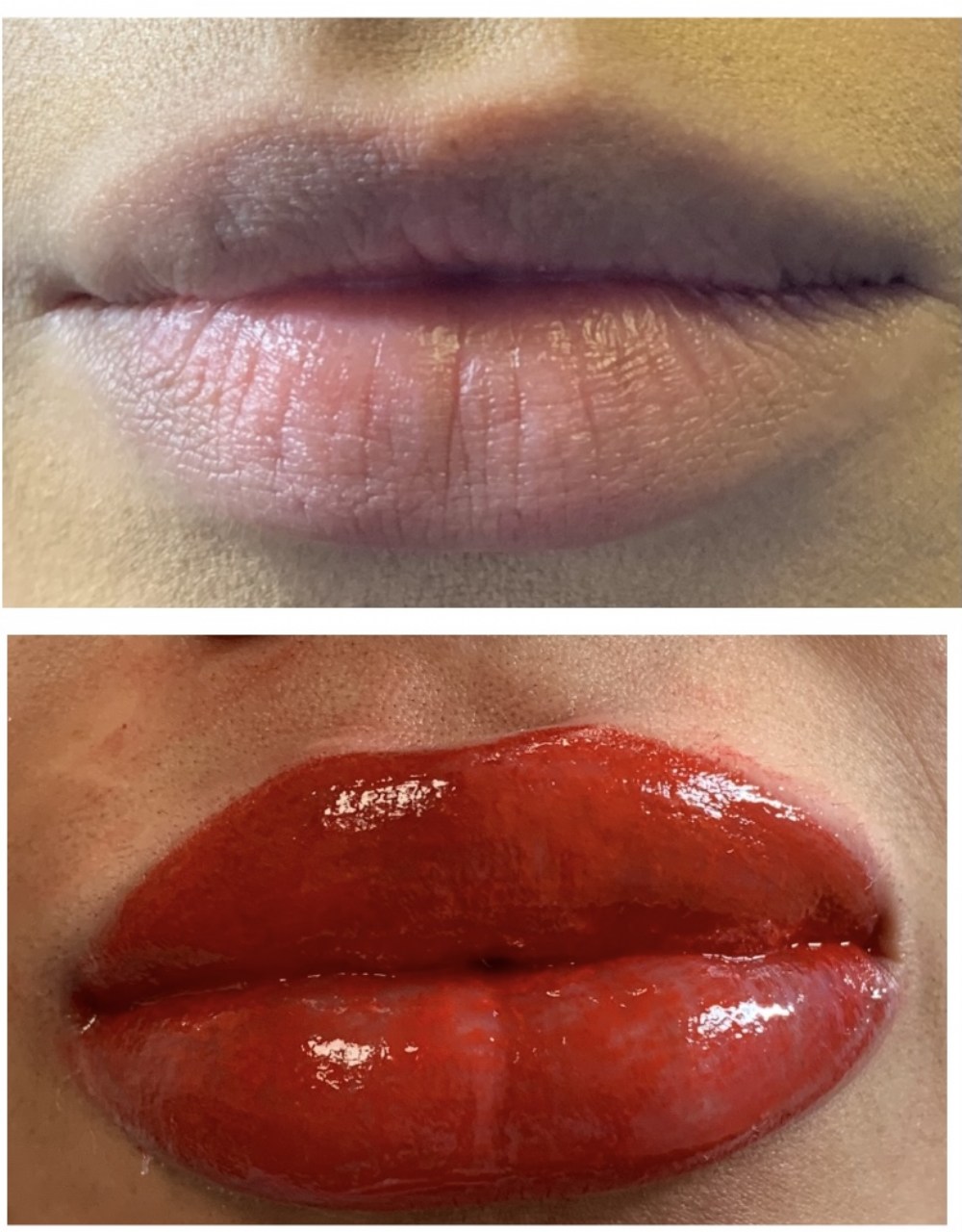 The permanent makeup, lip tattoo treatment, also called Lip blush tattoo, will help you save the time and hassle of making your lips just right. Not having to reapply your lip stick many times a day and after every meal or drink you eat. It is also perfect when on holidays: imagine spending a whole day on the beach without worrying about your gloss or lipstick. We can improve the shape of your lips using correctional techniques, just discuss your desired result during the consultation, and we will work together in designing the perfect lips for you.

There are many benefits to "Tattooed Lip blush":
Restore the shape and natural colour of your lips
Improve an existing shape
Correct asymmetrical outline for a more proportionate shaped mouth
Get the pout you have always wanted
full colour lip boost
Repair uneven areas of colour due to age, smoking, cold sores and scarring.
Lip Defining Contour
Unfortunately, the lip contours of most people will fade over time, giving the appearance of thin or older looking lips. This can be due to aging, smoking, sun damage or medical conditions. 'Lip Contour' is a fabulous basic-level treatment, where the lip line is refreshed with a subtly defined contour, with colours that are blended into the lips to avoid a harsh line. The plumping effect will make the lips look fuller and the treatment is designed to give you a more youthful, defined lip contour.
Lip blush and nude lip tattoos are new trends in permanent makeup. They are suitable for any age and create a very subtle natural look that is as close as possible to your natural lip colour to create a youthful appearance. It's important to note that the lighter the shade you choose, the more frequently you may need touch up sessions to maintain your look.
All lip procedures are done after the precise pre-drawing to make any shape adjustments like asymmetry corrections or size changes. Skin abnormalities, discolorations, contour loss, and scarring in the area will be taken into account and can be corrected/covered during the treatment as well.
There are some important things you need to know when considering a lip tattoo procedure:
Those who are prone to cold sores on their lips are required to take preventative anti-viral medication in order to get the procedure done. This is for the safety of the client to ensure they heal properly and don't have an outbreak.
After the procedure, it generally takes 4-5 days for the lips to peel off. At first they may look dry and chapped, but will restore in approximately five-six days.