In recent years, eyebrow tattoos have come quite a long way in terms of quality and appearance. Now more than ever, eyebrow tattoos have been considered a safe, sophisticated way of adding volume and beauty to your face.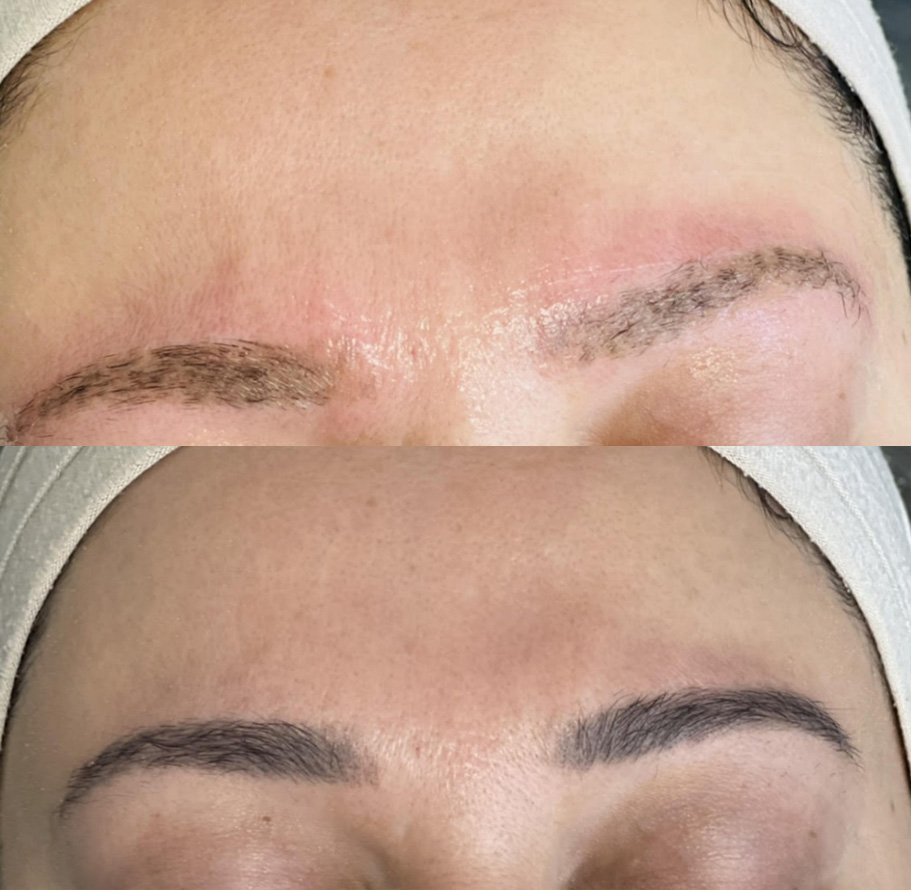 Even so, these procedures can be done in a way you do not like or performed in an unprofessional, messy manner. In some cases, you may initially enjoy the look but begin to dislike it over time. Nobody is perfect and mistakes are made all the time. So, if you are looking for Laser Tattoo Removal for your eyebrows, or any permanent makeup tattoo removal and want to get it done the right way, check out the advice we have to offer here at Natural Enhanced Beauty Clinic. 
How Long Does It Take to Get Brow Tattoo Removal?
How Many Sessions are Needed?
In most cases, proper tattoo removal will require anywhere from 2-12 sessions spaced apart from one another so you can get the best results possible. The number of sessions you undergo will entirely depend on certain factors such as the pigment of your skin, the type of tattoo and how saturated it is, etc. As we previously mentioned, spaced out sessions are important in making sure that this removal is safe for your skin. Professionals will recommend that you do multiple sessions with a 4-8 week break in between each one so your skin can have ample time to heal before having it worked on again.  
Straight after First treatment of Laser Brow Removal.
Preparing for Laser Tattoo Removal
There are a few things you need to keep in mind before getting this kind of tattoo removal performed. Some of the important things to remember are:
Do not come tanned or sunburned. This can damage the skin and cause scarring during the procedure.
You should be properly hydrated.
Avoid waxing or exfoliating the area. 
Do not take any anti-inflammatory drugs such as ibuprofen and aspirin. These drugs can increase the chance of you bleeding.
Just as there are ways to prepare for this procedure, there are also ways to take care of your skin afterwards so it can heal, and you can get the best results. Some aftercare tips include:
Keeping the treated area clean and dry. Especially during the first three days.
Use moisturizer recommended by technician This will help heal the wound faster and minimize itching.
Avoid any sort of heat. This includes excess sweating, swimming, sun exposure and hot water.
Avoid high pressure water.
Avoid smoking and alcohol consumption.
Do not pick your scabs. Picking scabs will lead to potential scarring.
Let our Clinic Help 
When you are looking for professional Microblading Removal Leeds, NEB Clinic has exactly what you are looking for. With our highly experienced team and advanced beauty clinic, you can find everything you need to look and feel your absolute best. To find out more about our services and how our team can help, be sure to call our front desk at 07742069593 today!